Grandstream GXP2160 Telephone
Grandstream GXP2160 telephone,  next generation 6-line business phone systems, key-system SIP phone that features a 4.3 inch TFT color LCD, 5 programmable context-sensitive soft keys, 24 programmable BLF extension keys, dual Gigabit network ports, integrated PoE and Bluetooth, 5-way conferencing, and Electronic Hook Switch (EHS) support. The Grandstream GXP2160 delivers superior HD audio quality, rich and leading edge telephony features, and personalized information and customizable application services. The Grandstream GXP2160 also supports automated provisioning for easy deployment, advanced security protection for privacy, and broad interoperability with most 3rd party SIP devices and SIP/NGN/IMS platforms.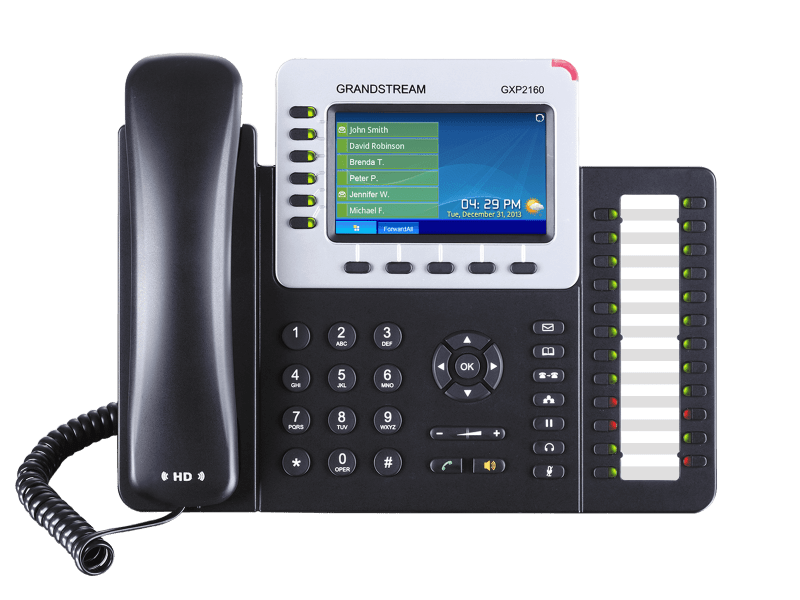 Grandstream GXP2160 Features
6 Dual-color line keys (with 6 SIP accounts)

5 Programmable context-sensitive soft keys

24 Dual color BLF extension keys

Dual switched auto-sensing 10/100/1000 Mbps Gigabit network ports

EHS (Electronic Hook-Switch) support with Platronics headsets

Automated provisioning using TR-069 or AES encrypted XML configuration file

TLS/RTP/HTTPS for advanced security and privacy protection

Integrated real-time web applications (weather, stock, currency, RSS news, etc)
Grandstream GXP2160 Telephone Specs and Features
Feature Keys
•6 line keys with up to 6 SIP accounts
•24 speed-dial/BLF extension keys with dual-color LED
•5 programmable context sensitive soft keys
•5 navigation/menu keys
•11 dedicated function keys for:◦Message (with LED indicator)
◦Phonebook
◦Transfer
◦Conference
◦Hold
◦Headset
◦Mute
◦Send/Redial
◦Speakerphone
◦Vol+
◦Vol-
Graphic Display
•4.3 inch (480×272) TFT colour LCD
Bluetooth
Bluetooth V2.1 HD Audio Yes, both on handset and speakerphone
Base Sound
Yes, allow 2 angle positions
Wall Mountable
Yes
Telephone Features
•Hold
•Transfer
•Forward
•5-way conference
•Call park
•Shared call appearance (SCA)
•bridged line appearance (BLA)
•Downloadable phonebook (XML, LDAP, up to 2000 items)
•Call waiting
•Call log (up to 500 records)
•Customization of screen
•Off-hook auto dial
•Auto answer
•Click to dial
•Flexible
•Dial plan
•Hot desking
•Personalized music ringtones and music on hold
•Server redundancy and fail-over.
HD Audio
Yes, both on handset and speakerphone
Network Interfaces
Dual switched auto sensing 10/100/1000 Mbps Gigabit Ethernet ports with integrated PoE
Voice Codec
•Support for G.729A/B
•G.711u/a-law
•G.726
•G.722 (wide band)
•iLBC
•In band and out of band DTMF (in audio, RFC2833, SIP INFO)